The Evolving Political Spectrum
What is commonly referred to as the political spectrum has devolved into a confusing twisted mass of ideas that people keep rearranging in favor of their own particular viewpoint. Let's clean out and organize this ideological closet. Some items have been mislabeled and most of them misplaced.
This befuddling entanglement of the political spectrum has allowed the flagrant misuse of ideological terminology to truly run rampant during these unnerving times of transformation. Labeling an American politician a Nazi or Communist by taking …


... the most farfetched connection and deceitfully expanding upon it in order to completely assassinate that politician's character is fast becoming an American pastime.
The constant practice of supersizing Liberals to Communists or Conservatives to Nazis is a large scale expression of this confusion and gives us a picture of our first faulty political spectrum.





Starting on the left side are the commies, then the socialists, with liberalism in the center (this could represent the classic definition of Liberalism which means laissez-faire, but let's stick to the example) and then on the right is capitalism leading to Nazism. This Liberal centric design is obviously self serving, but it's not the only one. Conservatives have created their own ideological blinders in graphical form such as the one below.



At the top is full government control, in whatever form, and then moderate government in the middle with complete anarchy beneath. You can see the Republicans are conveniently inside the tolerable green zone. You may have noticed a significant difference between the two diagrams shown so far. One has Nazism and Communism at different ends of the spectrum while the other has them at the same end. Why is this?
The first diagram addressed the Socialism-Capitalism dichotomy, in other words less vs. more economic control by the government. The second diagram addressed the communalism-individualism dichotomy, in other words less vs. more social control by the government. A better way to illustrate the difference between the two scales is through an example. Many immigrants fled the Nazis and Communists during WWII and while being told they escaped from two opposing ideological camps, many witnessed inherent similarities between the two. The left-right axis describes the economic differences between Nazism and Communism while the authoritarian-anarchy axis describes the similarities.
It's worth noting here that the respective supporters of the two above diagrams feel the other's interpretation is a figment of their imagination when actually both scales of political expression are valid and need only be combined into a two dimensional x-y grid. This is the next level of complexity we see in political spectrums, but it's just as easy to manipulate in favor of one's own ideology as the previous one dimensional diagrams. Below we see the Nolan chart, created by the libertarian David Nolan in 1970, which will somehow make libertarians look good.

First off, we can see that the libertarian position inhabits the top of this diamond grid and the labeling itself shapes anyone's perception. The only label less pigeon-holing than authoritarian or liberal or conservative would be centrist followed by the supreme champion of freedom, Libertarianism. This spectrum shows the result of no government involvement in the economy or social interactions as complete freedom; 100% personal self-government and 100% economic self-government.
We could easily flip things upside down and change the labels to produce a pro-government chart. Just replace libertarianism with Anarchy and Authoritarianism with communalism/populism. See what I'm getting at? These charts and diagrams are easily transformed from educational tools to expressions of self centered thinking by the different ideologies that propagandize with them. Next is a more watered down visual.

Here we have as neutral a version of the two dimensional spectrum as possible. Labels like communitarianism and individualism carry a lot less baggage and much can be learned from this graphic since the left-right duality is explained in neutral language. Instead of an attempt at brainwashing, we find a well rounded definition of right and left. The left consists of an economic focus on community mixed with a cultural focus on the individual while the right consists of an economic focus on the individual mixed with a cultural focus on the community. There are many different versions of this two dimensional chart utilizing different scales of dichotomy such as religion-secularism, pacifism-militancy, multiculturalism-nationalism, multilateralism-unilateralism, but they're mostly just different versions of the two dimensional chart described above. It's also worth noting that most successful American political activity exists in the centrist area of any two dimensional political chart. This includes everyone from Bush to Obama, none of whom come close to being Nazis or Commies.
An appropriately labeled two dimensional diagram gives us a great picture and has become the most common political chart, although another level of complexity as well as detail can be realized. I will now delve briefly in to three dimensional political spectrums which can be confusing and complex, but a quick overview can be helpful, even if it just helps you to know what's out there. A three dimensional cube diagram has been created by adding a third axis to the now traditional two dimensional political diagram. The Vosem Chart abandons the centrist area, but then appropriately splits the economic liberty axis into corporate and individual economic realms, which basically doubles the Nolan into the side by side panels of a cube. The crude diagram below shows us one corporatized Nolan chart in back and another individualized Nolan chart in front creating eight (Vosem is Russian for eight) quadrants.
..... ----------------------------–-
. / |.New Labour.|.Authoritarian../..|
/--+------------|--+--------- /....|
|..|..................|...|..............|...|
|..|.....Liberal....|...|Totalitarian|...|
|..|..................|...|..............|...|
|..|-------------+---+--------+...|
|..|..................|...|..............|...|
|--+------------|---+---------|...|
|..|.................|....|..............|...|
|..|..Libertarian.|....|..............|---+- Conservative
|..|.................|....|..............|...|
|..|.................|....|..............|...|
|--------------+-------------+---|
|/...................|...................|.../
/---------v----|-----v----------/
Anarcho-syndicalist Paleo-conservative


This three dimensional chart adds a useful level of detail by differentiating between the corporate and individual spheres of the economy allowing greater specificity. For a more in depth explanation of this political chart than I have time to provide here, check out "Politics in the third dimension" and scroll down to the same diagram.
The Friesian Institute created another cubed political chart which splits the social liberty axis into positive and negative liberty. Positive liberty is the ability to participate in your government in some way. Negative liberty is by no means a lack of liberty like it sounds, but is more about the individual's right to be left alone by the government. The ability of people to run for office and affect their government is a positive liberty while freedom from religious prosecution or unlawful search & seizure is a negative liberty.
This Friesian chart takes the economic and social liberty scales of a Nolan chart, both negative liberties, and creates a third dimension by adding a positive liberty scale. Starting from no positive liberty, i.e. all power concentrated into the hands of one monarchy, then an oligarchy of few power holders, then a republic like the US, then a true democracy of majority rule without checks or balances followed by power spread equally to all individuals, otherwise known as Anarchy.
Whereas this Vosem chart doubled the Nolan chart, the Friesian diagram multiplies the Nolan by five. The cube chart then becomes even more complicated when each one fifth slice of the cube is split further into sections spanning through social monarchy, tolerant monarchy, moralist oligarchy, market oligarchy, social republic, tolerant republic, moralist democracy, market democracy, social anarchy, tolerant anarchy.
Now that we are thoroughly confused, what does this all mean?
Each successive level of detail in these progressively complex political spectrum diagrams simply helps us to differentiate even further between the political ideologies of different individuals. You may also find exploring these ideas and their placement in relation to each other deeply educational & illuminating.
Another illuminating attempt at a new political spectrum can be seen at left, but I will leave the explanation to the writer at Rational Revolution who presents a thoroughly interesting train of political thought as well.
There is no test to take on a three dimensional political spectrum (except the 3rd axis questions at the bottom of the Friesian page), but the 2D Nolan and its variants are very popular and you can find many sites to take a simple political quiz based on it.
For those who haven't tried this already and want to see where they may place on one of the more thorough two dimensional political charts go to this Political Quiz . This test shouldn't be taken too seriously, but if you answer truthfully, it might help you better comprehend where you stand in relation to others. I came out as a centrist social libertarian who is heavily non-interventionist and falls on the liberal side of the culture war (that would be the classical definition of liberal, as in laissez-faire).
You can see my results and their respective graphs below.
My Political Views
I am a centrist social libertarian
Right: 0.75, Libertarian: 5.59
My Foreign Policy Views
Score: -6.65
My Culture War Stance
Score: -6.43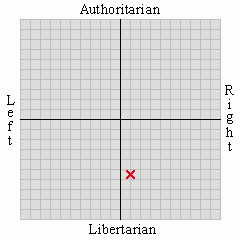 Posted by Frederick S. Friedman at September 15, 2009 5:35 PM